The Wrap Society Certified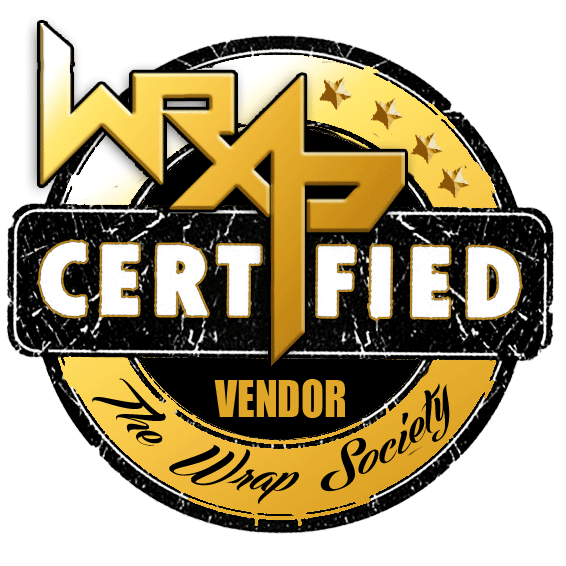 The Wrap Society has worked hard to find those that support the wrap industry and support our group. We have a wonderful variety of companies that have contributed to the industry and have worked hard to improve the future of the Wrap industry.
IF YOU ARE A MANUFACTURER OR PROVIDE PRODUCTS TO THE WRAP AND COMMERCIAL GRAPHICS INDUSTRY AND WANT TO INQUIRE ABOUT ADVERTISING AND BECOMING A CERTIFIED VENDOR LIKE THOSE LISTED BELOW, PLEASE CONTACT US.
Avery Dennison
​
800-282-8379
VVivid Vinyls

***NOTE - VVivid Products are sold directly throught their website
TeckWrap




***NOTE - All TeckWrap products are sold through official distributors, visit their website for distribution information
3M Knifeless Tech Systems
Cutting Vinyl on a vehicle with out a knife? Thats Right!

What can we say about them and their product , I mean its only the best thing since the invention of electricity , lol. Not only did they create something that a wrapper can't live without, they keep re-inventing and improving their product. And now we here they are working on a Knifeless for PPF. Can't Wait to try that!!!!

We have granted these sponsors certain privileges, they will be able to post new product intros, promotions, event announcements and so forth.

www.facebook.com/knifelesstechsystems
http://www.knifelesstechsystems.com/
Yellotools has been an industry benchmark for creating specialty tools in the graphics industry for over 12 years now. Chances are that most of your favorite tools are innovations first created by them and they are constantly challenging themselves to develop even better tools in an industry that is constantly changing and evolving. Yellotools motto "We Love what you Hate" fuels their creativity and inspiration and is more than just a motto. So many tools have been realized by their "DbS Program" (Designed by Signmaker) which takes a hassle, a pain or a concept suggestion and turns what you hate into a solution tool that everyone will love! Yellotools has a deep appreciation for the Car Wrapping industry and their artists and they are happy to support The Wrap Society and hopefully gain more insight with your assistance to better serve the community of installers with tools that will make your day to day job easier and stress free.
Yellotools is a German based Manufacturer located in the countryside of beautiful Windeck Germany with distributors worldwide. They have a warehouse located in sunny Orange County Ca. that supplies all of the US and Canada. For more information please visit our website or reach us via social media –
MAG STRAPZ
​
MagStrapz are magnetic straps designed to wrap around any heat gun or torch, allowing them to stick directly to any vehicle. This prevents installers from dropping and damaging heat guns, bending over to pick them up, and work on the tops of high vehicles with ease. MagStrapz started for those exact reasons listed above. The creator of MagStrapz also owns a wrap and sign shop, Element Graphics and Design. The employees were always having problems with dropping and damaging their heating devices, as well as constantly placing them on the ground, where they weren't easily accessible. With the MagStrap, the heat guns and torches are now always in direct reach.
The process of inventing them took a great deal of time, consideration, and testing. MagStrapz are created to help out any installer with their simple, easy to use design, while maintaining their high quality materials. The rubber is formulated to make sure no marks or imprints are left in the vinyl. The magnets are very heavy duty and thick, allowing heavy heat guns and torches to stay stable on the vehicles while remaining a safe distance away from the vinyl. They are meant to be used for right-handed and left-handed installers. All you have to do is flip the strap around to make sure it is strapped, so your heating device is pointed away from your face.
MagStrapz are the perfect new tool for any installer! Save your back from bending over, your heating tools from being damaged, and order your new best friend today
SOLD & DISTRIBUTED BY IMAGEONE IMPACT, MR CLIPART AND METRO RESTYLING
www.magstrapz.com
https://www.facebook.com/magstrapz/
https://www.instagram.com/magstrapz
​
Wrap Apps & Online Services
PIDPROSERIES
​
Where the Top Wrap Installers Gear Up
PROSeries was created to bring life to the world of wrap tools. Our name explains it all—this is a PROFESSIONAL SERIES tool line, with not only great function, but also amazing appeal. When you install, we want your customer, co-wrappers, and friends alike to see an overall image that only a great-looking tool could provide.
In an industry where image is everything, and everything you do is custom, why create art with a bland tool? Tools are an extension of the installer, and a way to showcase their own flair and individualism. PROSeries has changed the way we see tools and has worked to not only bring you tools that work but also look good doing so.
PROSeries is excited to bring the first custom line of tools to market, and we look forward to growing with your support! If you like what you've seen so far from PROSeries, just wait… the best is yet to come!
​
SOLD & DISTRIBUTED BY METRO RESTYLING & FELLERS
http://pidproseries.com/
https://www.facebook.com/pidproseries/

​
WRAP APP
"The Wrap App was developed by members of the wrap industry for the wrap industry. Quoting wraps and graphic installs has been a long and time consuming process taking up to 15 minutes per project in most cases. The Wrap App has taken this process and refined it in to a very efficient and convenient way for users to create professional, ready to send quotes in under 60 seconds. This app can be used by wrap shops, sign shops and independent installers alike for every kind of wrap or install imagineable.
The Wrap App has unlimited options that are 100% customizable by the end user. You can enter as many vinyl and laminate options as you please along with your own customized pricing. The app will save you time and allow you to gain more business as well as the obvious, allow you to make more money.
For more info Visit
https://www.facebook.com/thewrapapp/?fref=ts
WRAPPER MAPPER
WrapperMapper.com has a simple mission… to grow the wrap industry by promoting professional wrap shops to the world. Creating the original, dynamic, easy to use and searchable mapping system has made it possible for us to become "The original, world's largest, and easiest way to find Professional Wrap Installers".
Wrap Education In-house or Online
THE WRAP INSTITUTE
The Wrap Institute is passionate about sharing the instructional videos we have put together on our site. Our main goal is to help improve the graphic installation community worldwide one instructional video at a time. All content in our videos is about using the best technique, tip or tool to complete the job with the highest quality, durability and efficiency.
To that end, we want to be clear that no specific sponsor has any input or bearing on the information provided in the videos. While we are proud partners with our sponsors, the content of our videos are 100% objective and neutral. Any logos and/or brand names displayed in our videos are unintended and in no way should be construed as an endorsement of that product.
Register to become a member. Knowledge is Power! Never Stop Learning!
​
LOWEN CERTIFIED
THE INDUSTRY'S BEST GRAPHIC INSTALLATION TRAINING & TESTING CENTER

What We Do
Lowen Certified is the largest and most experienced 3M Authorized Graphics Installation Training and Testing Center in North America. Our unique program offers individual graphics installers a portable, industry recognized certification.
We also offer a supply line of high quality vinyl graphics installation tools at prices significantly lower than other tool suppliers.

https://www.lowencertified.com/assets/pages/train-lowen.aspx


​
CLIPART & VEHICLE TEMPLATES
*MR CLIPART!
For 25 years MR Clipart is the world's #1 provider for accurate, actual and usable 2D and 3D vehicle templates. Their online product Car'n Truck contains a 3D presentation software, thousands of cuttable decals, high-res wrap backgrounds, special fonts and much more. The vehicle template product also works on the iPad. Additionally numerous videos and tutorials as well as FREE webinars are offered.

MR Clipart is also the European distributor for the wrap tools of Image1Impact from California.
The newest addition to their portfolio is the exclusive distribution of the laser-measuring tool SPIKE for the EMEA - region. Use spike and you smartphone or tablet and you will never hand-measure any wall or window again.
For more details, simply visit http://www.mr-clipart.com